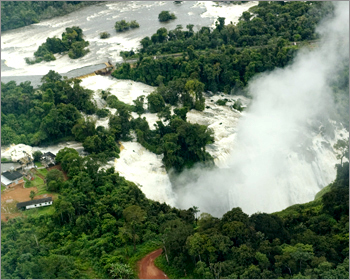 Karmin Exploration Inc. ("Karmin") (TSXV and the Lima Stock Exchange: KAR) is pleased to report significant developments at the Aripuanã Zinc Project ("Aripuanã") located in north-western Brazil.  Karmin has a 30% carried interest in Aripuanã until 12 months after the delivery of a feasibility study.
Mineral Resources and Engineering Studies
Karmin has engaged RPA Inc. to update the Mineral Resources at the Aripuanã Zinc Project in accordance with the requirements set out in National Instrument 43-101 Standards of Disclosure for Mineral Projects ("NI 43-101").  Approximately 150 drill holes totalling an estimated 59,000 metres have been drilled from the date of RPA's last NI 43-101 report dated January 29, 2013 (Karmin Press Release dated February 21, 2013) and August 31, 2015.  Currently there are five drill rigs operating at Aripuanã.  Karmin anticipates that RPA Inc. will have completed this work in or around the first quarter of 2016.
Karmin also announces that Compañía Minera Milpo S.A.A. ("Milpo") (Lima Stock Exchange: MILPOC1), which company holds a 7.7% interest in Aripuanã, has engaged Worley Parsons Ltd. ("Worley Parsons") to conduct gap analyses and trade off studies on internal reports concerning Aripuanã that have been previously completed by Votorantim Metais Zinc S.A. ("Votorantim").  Worley Parsons' work on these items is expected to be completed in or around the first quarter of 2016.  Milpo has also received firm quotations from engineering firms with the objective of completing a feasibility study to be prepared in accordance with the standards set out in NI 43-101 sometime during 2016. Milpo and Votorantim jointly own 70% of Aripuanã and are responsible for 100% of expenditures until 12 months after the delivery of a feasibility study.  Karmin understands that affiliates of Votorantim own 60% of Milpo.
A metallurgical testing program is also underway at Aripuanã in association with the other work programs contracted by Milpo and the results of this program should also be known in or around the third quarter of 2016.
Retraction of Information Contained In Previously Released Environmental Impact Study
In its October 6, 2015 press release, Karmin announced the filing by Votorantim of an Environmental Impact Study ("EIS") on Aripuanã with the Secretaria de Estado do Meio Ambiente in Mato Grosso Brazil.  The disclosure in Karmin's press release in respect of the EIS also included information in respect of production potential that had been incorporated into the EIS.  The production potential and life of mine disclosure included in the EIA were not prepared in accordance with NI 43-101 and were not based on a NI 43-101 report and as a result, Karmin is retracting all statements in respect of such information in its press release and disclaiming and retracting all such information contained in the EIS.
Infrastructure Development
The State of Mato Grosso has committed to paving the 230 kilometre highway from Castanheira to the town of Aripuanã so that Aripuanã is connected to the Brazilian highway system.
Surface rights have been purchased by Votorantim in the vicinity of Aripuanã which provide sufficient area to build facilities required for any future development of Aripuanã.
Karmin also understands that preliminary discussions are underway to supply 34.5kV electrical power to Aripuanã which would be sufficient if construction activities are commenced in the future.
Management of the Aripuanã Zinc Project
Votorantim and Milpo have assembled a highly qualified project team to jointly manage the current work programs.  This team is working in conjunction with respected contractors such as Worley Parsons to complete the ambitious work programs planned during the coming months.
Qualified Person
The Mineral Resources for Aripuanã disclosed below in this press release have been prepared by Votorantim and reviewed by Ms. Valerie Wilson, P.Geo, an employee of RPA and independent of Karmin.  Ms. Wilson, P.Geo., has read and approved the contents of this press release as it pertains to the disclosed Mineral Resource estimate.
About Karmin
The common shares of Karmin are listed on the TSX Venture Exchange and the Lima Stock Exchange and trade in both markets under the symbol "KAR". The principal business of Karmin is to acquire, explore and develop resource properties.
Karmin owns 30% of Aripuanã, one of the ten largest undeveloped zinc projects in the world. Aripuanã covers an 820 square kilometre mineralized massive-sulphide district that includes five areas of mineralization (Ambrex, Arex, Babacu, Massaranduba and Mocoto) over a 25-kilometre strike length. Votorantim and Milpo own the remaining 70% of Aripuanã, but are responsible for 100% of the project costs until 12 months after the completion of a feasibility study.
The Summary of Mineral Resources at Aripuanã is outlined in Table 1.  This summary is detailed in a Technical Report prepared by RPA Inc. which conforms to NI 43-101 Standards of Disclosure for Mineral Projects and is dated January 29, 2013 (see Karmin press release dated February 21, 2013)