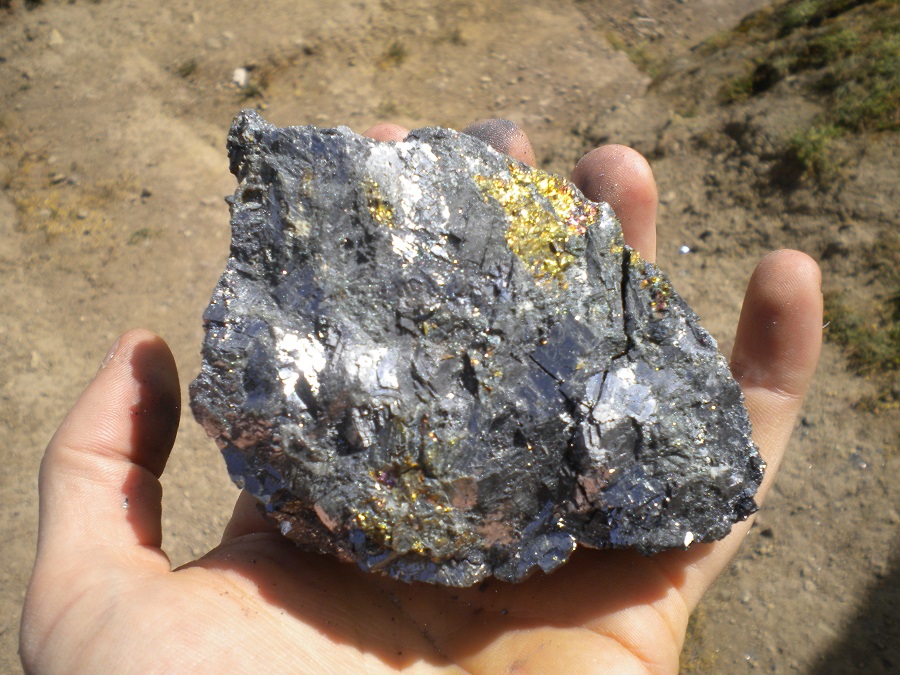 Lupaka Gold Mines Approximately 900 Tonnes Grading 14.6 Grams per Tonne Gold and 2.4% Copper at Invicta
VANCOUVER, BC— – Lupaka Gold Corp.("Lupaka Gold" or the "Company") (TSX VENTURE: LPK) (BVL: LPK)(FRANKFURT: LQP) announces that it has mined approximately 900 tonnes from underground at the Invicta Gold Project with sample assays averaging 21.9 grams per tonne ("gpt") equivalent gold*. The rock was mined from three available faces underground at the 3400 level of the Atenea Vein, and was completed in preparation for transport to the toll mill for bulk process testing.
Assays values for the mined rock averaged:
Gold
14.6
gpt
Silver
160.4
gpt
Copper
2.4
%
Lead
1.7
%
Zinc
1.2
%
Gold Equivalent*
21.9
gpt
*– Gold equivalent contained ounces are calculated at $1,171.80/oz gold, $16.20/oz silver, $2.63/lb copper, $0.81/lb lead and $0.95/lb zinc.
PLH S.A.C. Mining Contractors operating under the direction and supervision of the Company mined the material from three separate areas within the existing sub-development that exposes more than 200 meters of mineralized vein. The material was mined by slashing out the footwall side of the drift. Approximately 400 tonnes has been trammed to surface in preparation for transporting to the toll mill.
Forty-eight samples were taken from the broken material at surface and underground. The piles of broken material were trenched at 2 meter intervals with samples taken across the entire width of the pile. The samples are believed to contain a representative composite of the mined material and may not characterize the entire deposit. Vein mineralization is mainly composed of chalcopyrite, galena and sphalerite along with associated gangue mineralization. Tonnage is estimated from the bucket count.
As previously reported May 19 2015, the Company has contracted Procesadora Leslie Semanco S.A.C. ("PLS") in Chimbote, Peru to process the Invicta bulk sample. PLS has committed to provide a minimum of 100 tonnes per day ("tpd") of process capacity for the Invicta Gold Project beginning in July 2015 at terms to be negotiated following receipt of the results of the bulk testing. The Company is also pursuing the potential purchase of a permitted process plant site closer to the Invicta mine site, to provide for growth and expansion of the Invicta Gold Project.
The Invicta Gold Project contains a poly-metallic resource primarily comprised of gold with accessory copper and, to a lesser degree, lead, silver and zinc. As previously disclosed, the Company intends to commence production at an initial rate of 100 tpd, scaling up to 350 tpd in 2015. Mining operations will initially target some of the highest grade gold and copper mineralization within the Atenea Vein.
Quality Control and Assurance
The analyses for this sampling campaign were carried out by ALS Minerals Peru S.A. ("ALS"), an accredited laboratory, in Lima, Peru, exercising a thorough Quality Assurance and Control program (QA/QC). As part of QA/QC protocol, standards were inserted into the sample processing stream. Samples were bagged, sealed and delivered to the ALS sample preparation facility in Lima, Peru. Gold was assayed by a 50 gram fire assay and re-assayed for the over-limits, with an AAS finish. All ALS labs are ISO 9000 registered.
About Lupaka Gold
Lupaka Gold is a Peru-focused gold explorer and developer with geographic diversification and balance through its interest in asset-based resource projects spread across three regions of Peru.
The Company's 100%-owned Invicta Gold Project is located approximately 120 kilometres by road north of Lima. The resource estimate for Invicta shows a Measured resource estimate of 131,000 tonnes grading 6.65 grams per tonne ("g/t") gold equivalent for 28,000 contained ounces of gold. As well, the Invicta resource estimate shows an Indicated resource estimate of 8,513,000 tonnes grading 3.43 g/t gold equivalent for 939,000 contained ounces of gold and an Inferred resource estimate of 2,534,000 tonnes grading 2.90 g/t gold equivalent for 236,000 contained ounces of gold.
The Company holds an option to earn a 65% interest on the Josnitoro Gold Project from Hochschild Mining PLC. The project is located approximately 600 kilometres by road southeast of Lima in the Department of Apurimac, southern Peru. Historical work on the disseminated gold zones includes over 170 shallow drill holes and extensive surface trenching.
Lupaka Gold holds a 100% interest in the Crucero Gold Project, a 5,500 hectare gold property located in southern Peru. Crucero has an Indicated mineral resource estimate of 1,003,041 ozs Au contained in 30,919,873 tonnes at 1.02 gpt gold (capped) and an Inferred mineral resource estimate of 1,027,806 ozs Au contained in 31,201,648 tonnes at 1.03 gpt gold (capped). These mineral resource estimates have been constrained by a conceptual pit shell in order to confirm reasonable prospects of economic extraction as set out in the CIM Definition Standards for Mineral Resources and Mineral Reserves and NI 43-101.
Qualified Person
The technical information in this document has been reviewed and approved by Julio Castañeda Mondragon, MAIG, the President of Lupaka Gold Peru S.A.C., a Peruvian subsidiary of the Company, and a Qualified Person as defined by National Instrument 43-101. Mr. Castañeda has verified the scientific and technical information, including sampling, analytical and test data underlying the information or opinions contained in this news release.
The Invicta Gold Project resource estimates referred to in this news release are disclosed in the technical report dated April 16, 2012, titled "Technical Report on Resources, Invicta Gold Project, Huaura Province, Peru", and prepared by SRK Consulting (U.S.) Inc. which is available atwww.sedar.com under Lupaka Gold Corp's profile.
The Crucero A-1 mineral resource estimates referred to in this news release are disclosed in the technical report with effective date January 17, 2013, amended and re-stated October 22, 2013, titled "Technical Report for the Crucero Property, Carabaya Province, Peru", and prepared by Tetra Tech WEI Inc. and SRK Consulting (Canada) Inc. which is available at www.sedar.com under Lupaka Gold's profile.
Cautionary Note Regarding the Invicta Production Decision
The decision to commence production at the Invicta Gold Project and the Company's plans for a mining operation as referenced herein (the "Production Decision and Plans") were based on economic models prepared by the Company in conjunction with management's knowledge of the property and the existing preliminary estimate of measured, indicated and inferred mineral resources on the property. The Production Decision and Plans were not based on a preliminary economic assessment, a pre-feasibility study or a feasibility study of mineral reserves demonstrating economic and technical viability. Accordingly, there is increased uncertainty and economic and technical risks of failure associated with the Production Decision and Plans, in particular the risk that mineral grades will be lower than expected, the risk that construction or ongoing mining operations are more difficult or more expensive than expected, the risk that the Company will not be able to transport or sell the mineralized rock it produces to local custom toll mills on the terms it expects, or at all; production and economic variables may vary considerably, due to the absence of a detailed economic and technical analysis according to and in accordance with NI 43-101.
FOR FURTHER INFORMATION PLEASE CONTACT:
Lupaka Gold Corp.
Investor Relations
+1 (604) 681-5900
or visit the Company's profile at www.sedar.com
or its website at www.lupakagold.com