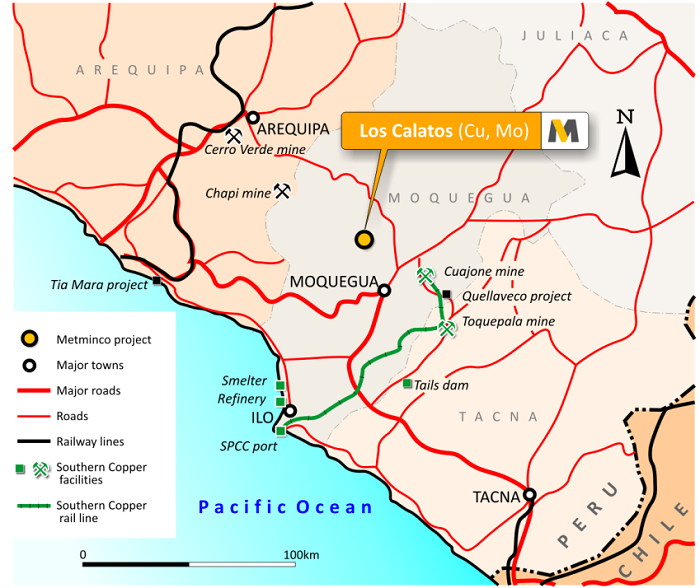 LOS CALATOS COPPER PROJECT MINISTERIAL RESOLUTION PASSED FOR RESERVATION OF LAND TITLE
Metminco Limited ("Metminco" or the "Company") (ASX: MNC; AIM: MNC) is pleased to announce  that the Ministry of Energy and Mines, Perú, has passed MINISTERIAL RESOLUTION N° 416-2014-MEM / DM, which recommends that the National Superintendent of Public Assets or SBN (the Peruvian government body that controls all Peruvian public assets) approve the reservation of the surface title required for the planned development of the Company's wholly owned Los Calatos Project for a period of six years.
Key aspects of the Resolution are as follows:
a)       The Resolution acknowledges the Project of National Interest ("PNI") status of the Los Calatos Project, owned by Metminco's wholly owned subsidiary, Minera Hampton Peru S.A.C.;
b)       The Resolution provides for a total area of 12,700 hectares, which incorporates sixteen mining concessions, as summarised in Annexure 1 and Figure 1, and
c)       The Resolution reserves the Company's right to purchase the surface titles on which the planned mining development is to take place for an effective term of six years, commencing from the date of issue of the abovementioned Resolution.
In accordance with Supreme Decree N° 007-2008-VIVIENDA, the SBN, acting on behalf of the Peruvian State, and at the request of the relevant Peruvian Department (in this case the Ministry of Energy and Mines), is required to identify and approve the reservation of property to be allocated to projects of National Interest.
Mr William Howe, Managing Director, commented: "We believe the Ministerial Resolution re-affirms the Ministry's belief and support in the future of the Los Calatos Project.
Furthermore, the reservation of the surface title will facilitate the development of the infrastructure required in support of the planned mining operation at Los Calatos."
William Howe
Managing Director
ANNEXURE 1
ANNEX to MINISTERIAL RESOLUTION N°416-2014-MEM / DM
Initial PNI (20 June 2011)

Code

Mining Concession

Area Reserved (Ha)

Name

Area (Ha)

010062494

NELSON 1-900

900

900

010263293

ALFA 1-900

900

900

010336493

GAMMA 1-1000

1,000

1,000

 

 

2,800

Extension to PNI (04 July 2014)

Code

Mining Concession

Area Reserved (Ha)

Name

Area (Ha)

010570408

NICKY 1

900

900

010570508

NICKY 2

1,000

1,000

010570608

NICKY 3

1,000

1,000

010570708

NICKY 4

700

700

010570808

NICKY 6

800

800

010570908

NICKY 7

400

400

010080109

NICKY 8

1,000

1,000

010080209

NICKY 9

800

800

010080309

NICKY 10

700

700

010247410

CELESTE 1

1,000

1,000

010265710

CELESTE 2

800

300

010265810

CELESTE 3

600

400

010247510

MARY 1

900

900

 

 

9,900

Total Area Reserved (PNI)

12,700
 

<!-comments-button-->