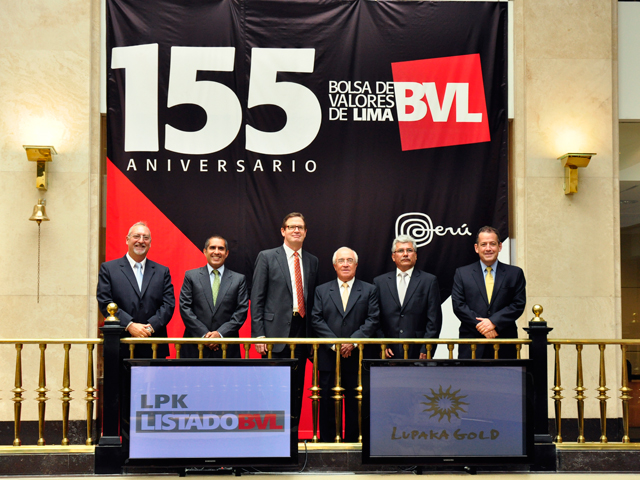 GLOBAL RECOVERIES OF 94.6% GOLD AND 97.8% COPPER REALIZED IN UPDATED METALLURGICAL TESTING FOR THE INVICTA GOLD PROJECT
Lupaka Gold Corp. has completed a further campaign of metallurgical studies on the Invicta mineralized resource, achieving global recovery of gold at 94.6 per cent and total recovery of copper at 97.8 per cent, contained in three concentrate product streams.
Eric Edwards, president and chief executive officer of Lupaka Gold, commented: "Our planned 300-tonne-per-day, high-grade-focused production approach for the Invicta gold project necessitated that we update and optimize the historical metallurgical testwork. The recent metallurgical testing identified several process improvements, low work index, excellent flotation characteristics and delivered three clean concentrate streams with very good recoveries. The results demonstrate that Invicta's concentrate grades and lack of penalty elements produce a desirable product for sale and blending, and enhance the outlook for the project."
     DISTRIBUTION OF METAL, RECOVERY OF METAL IN CONCENTRATE STREAMS (%)

Concentrate                         Au     Ag     Pb     Cu     Zn     Fe 

Copper (Cu)                       72.2   31.6   21.6   80.3   24.8   10.8 
Lead (Pb)                         14.6   43.0   70.5   12.0   20.8    2.6 
Zinc (Zn)                          4.9    6.0    0.9    1.1   43.0   33.3 
                                 -----  -----  -----  -----  -----  ----- 
Global recovery(1)                94.6   94.6   96.8   97.8   95.3   52.8 

Note:
1. Individual recoveries stated in the table values cannot be directly 
added to determine global recovery. Global recovery includes all streams 
not reporting to tails. As an open-circuit test, not all of the streams 
assayed were concentrates, some were tailings that under operating 
conditions will be recirculated, get cleaned and ultimately report to the 
concentrate streams.

The Invicta project contains a polymetallic resource with the majority of the value realized in gold with accessory copper and, to a lesser degree, lead, silver and zinc. As reported on March 17, 2014, the company intends to commence production at an initial rate of 300 tonnes per day, and initially target some of the highest-grade gold and copper mineralization within the Atenea vein.
                                                                         
                           CONCENTRATE GRADES PER TONNE

                                          Au    Ag    Pb    Cu    Zn    Fe
Concentrate                              g/t   g/t     %     %     %     %

Copper (Cu)                               79   461   6.5  29.2   4.7    27
Lead (Pb)                               30.5  1201  40.9   8.4   7.5  12.6
Zinc (Zn)                                2.5    41  0.13  0.19   3.8  38.9

The metallurgical testwork and associated engineering were executed at the Aminpro Mineral Processing Ltd. laboratory in Lima on underground samples with assays ranging between four and seven grams per tonne gold, 54 and 103 grams per tonne silver, 1.6 and 2.3 per cent lead, 1.6 and 2.5 per cent copper and 1.3 per cent zinc. Lab testwork showed that the precious metals and lead, copper and zinc respond well to flotation. The Invicta concentrates are also not expected to incur charges for penalty elements, as values reported for arsenic, antimony and bismuth in the concentrates are below 0.03 per cent.

Engineering studies indicated that at a plant scale, approximately 87 per cent of the gold and 92 per cent of the copper is expected to report into the lead and copper concentrates. The zinc concentrate assays reported as 3.8 per cent zinc is for a primary flotation concentrate, which at time of press was confirmed to be upgradable to 58.4 per cent. Gold values reporting to a zinc concentrate are not considered by management to be payable.

Mr. Edwards also re-emphasized the company's exploration vision, "While our efforts through early next year will be primarily focused on getting the Invicta gold project into production and generating cash flow, we remain committed to delivering the full exploration upside of our Crucero, Josnitoro and Invicta gold projects."

Technical advisers

The company has engaged SVS Ingenieros of Lima Peru, a subsidiary of SRK Consulting Group, to provide consulting services. SVS is engaged to provide a high-level assessment of production options and develop detailed mine engineering and mine design at the Invicta gold project.

Aminpro Mineral Processing of Canada and Chile has been engaged to complete metallurgical assessments, plant design and an evaluation of the available process options for the mineralized rock from the Invicta gold project.

Qualified person

The technical information in this document, other than metallurgical and processing information, has been reviewed and approved by Julio Castaneda Mondragon, MAIG, the president of Lupaka Gold Peru SAC, a Peruvian subsidiary of the company, and a qualified person as defined by National Instrument 43-101. Mr. Castaneda has verified the scientific and technical information, including sampling, analytical and test data, underlying the information or opinions contained in this news release.

The metallurgical and processing information in this document has been reviewed and approved by Roger Amelunxen, president of Aminpro Mineral Processing, of Canada and Chile, PEng, with the APEGBC and a consultant to the company, and a qualified person as defined by National Instrument 43-101. Mr. Amelunxen was directly involved in handling all of the testwork at Aminpro-Peru, and has verified the metallurgical and processing information contained in this news release.

The Crucero A-1 mineral resource estimates referred to in this news release are disclosed in the technical report with effective date Jan. 17, 2013, amended and restated Oct. 22, 2013, titled "Technical Report for the Crucero Property, Carabaya Province, Peru," and prepared by Tetra Tech WEI Inc. and SRK Consulting (Canada) Inc. The technical report is available on SEDAR under Lupaka Gold's profile.

Quality control and assurance

The analyses for this sampling campaign were carried out by Alfred H. Knight, an accredited independent laboratory, in Lima, Peru, exercising a thorough quality assurance and control program. AHK labs is ISO/IEC 17025:2005 and ISO 9001:2008, ISO 14001:2004 and OHSAS 18001:2007 accredited and compliant.

We seek Safe Harbor.

<!-comments-button-->