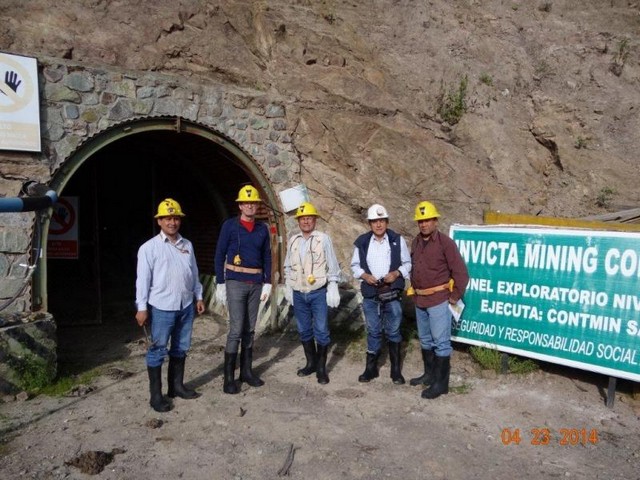 Lupaka Gold Receives Community Support to Advance Development of the Invicta Gold Project
VANCOUVER, BC –Lupaka Gold Corp. ("Lupaka Gold" or the "Company") (TSX VENTURE: LPK)(BVL: LPK)(FRANKFURT: LQP) is pleased to report that it has executed an agreement with the second of two local communities needed to commence mine development and construction on the Invicta Gold Project.
This most recent agreement with the local community of Lacsanga removes all Invicta past owners' obligations, allowing the Company to move forward and mobilize contractors, commence road improvements, transport mined rock for process bulk testing and pipe water to the project. Project support from Lacsanga is mainly necessary for transportation, in that the primary access route traverses through the community's boundaries. The Company has the other necessary community agreement already in place with the Community of Santo Domingo de Apache that allows for commercial mining operations.
The Company now has social license to advance Invicta to a mine development stage. The Company plans to initially focus on mining and shipping mineralized rock bulk samples to toll milling plants for testing, including capacity, cost analysis and recovery performance. Underground mine development will also commence with safety and ventilation upgrades necessary to support commercial production utilizing the 1.2 km of existing tunnels and the greater than 200 meters of mineralization already exposed in existing sublevel and cross-cut galleries.
The Company has also recently received its global explosives license, and is now fully permitted to purchase and store explosives for use at the Invicta Gold Project.
Mr. Eric Edwards, President and CEO of Lupaka Gold commented, "We are pleased with the social support and consensus that our team in Peru has been able to build for the Invicta Gold Project. This is a significant step towards achieving our objective of bringing the Invicta Gold Project into production. We remain committed to the timetable, and believe that we can commence mining activity at Invicta by the third quarter of 2015."
The Invicta Gold Project contains a poly-metallic resource primarily comprised of gold with accessory copper and, to a lesser degree, lead, silver and zinc. As reported on March 17, 2014, the Company intends to achieve production at a commercial rate of 300 tpd, initially targeting some of the highest grade gold and copper mineralization within the Atenea Vein.
Mr. Edwards re-emphasized the Company's exploration vision, "Our short-term efforts are focused on getting the Invicta Gold Project into production and generating positive cash flow. Long-term, we remain committed to exploring and discovering the full potential of our Invicta, Josnitoro and Crucero Gold Projects."
About Lupaka Gold
Lupaka Gold is a Peru-focused gold explorer and developer with geographic diversification and balance through its interests in asset-based resource projects spread across three regions of Peru.
The Company's 100%-owned Invicta Gold Project is located approximately 120 kilometres by road north of Lima. The resource estimate for Invicta shows a measured resource of 131,000 tonnes grading 6.65 grams per tonne ("g/t") gold equivalent for 28,000 contained ounces of gold. As well, the Invicta resource estimate shows an indicated resource of 8,513,000 tonnes grading 3.43 g/t gold equivalent for 939,000 contained ounces of gold and an inferred resource of 2,534,000 tonnes grading 2.90 g/t gold equivalent for 236,000 contained ounces of gold. The Company plans to put this project into commercial production in 2015.
También te puede interesar:
<!-comments-button-->