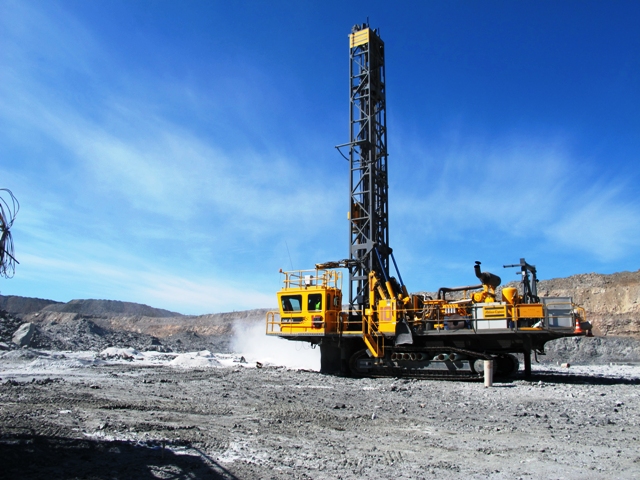 Promesa : Final Hole Intersects Best Alteration to Date
Release date- 23/10/2014 – The Company is pleased to advise the completion of the Stage 2 drilling program.
Key points are as follows:
Stage 2 Drill Program has been successfully completed with a total of 2,395.4m drilled.
Drillhole ALDD14009 was drilled to a depth 567.4m and has intersected several hundred metres of potassic alteration. This hole was drilled at a 15 degree angle and completed at true depth of 147m.
A significant 340m of quartz vein stockworking was intersected from 209m with 15 to 22 veinlets per metre. The stockworking carries chalcopyrite and molybdenite in 2mm to 10mm veinlets.
Four diamond drill holes were completed with a total of 2,395.4m. The Company's drill holes targeted an area below anomalous surface copper, gold and molybdenum geochemistry and intersecting the modelled MVI magnetic anomaly which is a significant feature several kilometres in strike length.
The Company has completed substantial work at the Alumbre Project including recent magnetic susceptibility readings of drillcore, magnetic modelling using the MVI method, geochemistry, structure, alteration and geophysics. All combine to indicate the district-scale potential of the Alumbre project. Indications are that a significant sulphide-bearing porphyry system exists at Alumbre.
Drill Hole ALDD14009
The fourth drillhole in this program, ALDD14009 was completed to drillhole depth 567.40m. The shallow angle of the drillhole represents a true vertical interval of 147m. The purpose of the drillhole was to test the region of the MVI anomaly below an area of significantly anomalous surface geochemistry in the northwest. Throughout the drillhole porphyry-style potassic, phyllic and silicic alteration was encountered with moderate to high veinlet density within several hundred metres of quartz vein stockworking.
The drillhole intersected a board interval of andesitic crystal tuff from surface to 457.4m. The tuff has moderate to strong potassic alteration from surface to 209m which progresses into moderate to strong phyllic alteration to 457m which in turn had moderate to intense silicification from 361m to 457m. The drillhole then contacted with a diorite intrusive until the end of the drillhole.
Chalcopyrite and molybdenite mineralization is observed every few metres in veinlets throughout the volcanic tuff interval. Between 250 and 350m, approximately 90 chalcopyrite or molybdenite occurrences are observable. A diorite intrusive, intersected at 457m, continues to the end of the drillhole.
The diorite is moderately to intensely silicified to 491.5m. Silicification then becomes weak to moderate with moderate phyllic alteration represented by quartz and sericite. Approximately 200 chalcopyrite or molybdenite mineralization occurrences have been observed in the final 300m of the drillhole. Mineralization occurs generally in stockwork veinlets and rarely in disseminated form.
A significant 340m of quartz vein stockworking was intersected from 209m with 15 to 22 veinlets per metre. The stockworking carries chalcopyrite and molybdenite in 2mm to 10mm veinlets.
A minor amount of magnetite was encountered in the drillhole associated with molybdenite. It is associated with pyrite and chalcopyrite mineralization. The diorite intrusive is generally moderately stockworked with traces of disseminated chalcopyrite and veinlet-hosted chalcopyrite and molybdenite mineralization.
In order to maintain momentum with our drilling efforts, the company has commenced work on a Semi Detailed Environmental Impact Assessment (EIAsd) that will extend our area of influence four fold around our current permits.
This will enable the company to plan its drilling beyond the 20 platforms currently approved in order to target the most prospective parts of the system.
Core is currently being cut and will be logged in detail before being sent to the laboratory for assaying in the coming fortnight. The Company looks forward to providing investors with further information in a timely manner.
For further information on the Project please visit our website www.promesa.com.au
ALUMBRE PROJECT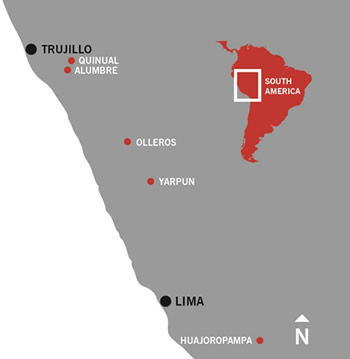 The project is located 70km southeast of the major city of Trujillo, in the north of Peru. The project is serviced by the nearby Pan Americana Highway and includes good infrastructure to the project area. These concessions consist of Chupon, Alumbre and the directly adjoining Magdalena concessions. The area controlled by Promesa comprises 36 concessions covering approximately 28,500 Ha.
Several other early stage projects are located on the other Magdalena concession but are at an early stage of exploration by Promesa.
These concessions were explored in 1994 by Newmont Mining Corporation who carried out regional exploration in the area. Between 1995 and 1998 Savage Resources Limited ("Savage") (Pasminco Limited acquired Savage in 1999) undertook a significant exploration program within the area, which included stream sediment and rock chip sampling, geological mapping, geophysical studies and drill program.
These concessions are located in a regional corridor of world class gold and copper mines, with characteristics similar to El Galeno, Conga and Tantahuatay, amongst others in the region.
GEOLOGY/MINERALISATION
The Alumbre Project is a potential Au-Cu-Mo porphyry and epithermal Au mineralisation system which is located over several of the company's adjoining concessions.
Alumbre concession demonstrate the potential of being, both the high sulphidation oxide deposit at Alumbre and an outcropping porphyry system located on the boundary between the Alumbre and Magdalena concessions.
Independent consultants were engaged throughout the geophysics program and mapping phases and confirmed the prospectivity of the property and high-sulphidation to porphyry environment. Consultants had recommended a 22 km IP geophysics program which was completed in December 2012.
In early 2013 results of the induced polarisation (IP) geophysics program at Alumbre had produced a strong chargeability anomaly extending from near surface to below the modelled 600m depth. The IP anomaly identified by Promesa is located approximately 500m southeast of Savage Resources drill hole CJK-1 which returned 110m at 0.12g/t Au (including 8m at 0.50g/t Au).
The IP anomaly is approximately 700m wide and 1500m long with a large chargeable volume and is open at depth as illustrated in Figures 1. The chargeability anomaly has a size and intensity commensurate with what would be expected from a medium to large sized mineralised porphyry system.
Figure 2 shows a 3D model of the chargeability signature at different intensities which is strongest at 200m to 300m below surface and indicates that the chargeability continues towards the northeast and is open at depth. High-sulphidation alteration and veining occurs at surface. Strong argillic alteration is thought to form a lithocap over, or adjacent to, the porphyry intrusive centres and the recent geophysics modelling supports this.